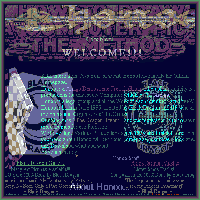 Name:
HONOO - An Amiga Demoscene French Group
Birthdate:
Monday 1 March 1999
Category:
Amiga Demo Scene, Computer Artists & Demomakers
Webmaster:
Black Dragon(Paul Pacheco)
Informations:
Honoo is a Amiga Demo Scene French Group created by HP(my young brother) & Black Dragon. This site has been created to show all around the world our Work. You can see all our releases like Art Pictures, Musics, Demonstrations(More called "Demos"), Photos, News,...The Design on the site is Nice, with Easy animated menu access. Site in English Language Only.