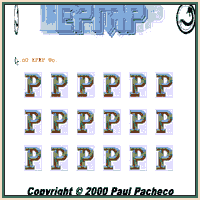 Name:
EPMP - The Site of P. who loves P?! 8-)
Birthdate:
Friday 7 july 2000
Category:
Experimental Personal site!!!
Webmaster:
Black Dragon(Paul Pacheco)
Informations:
This is My REAL Personal homepage. You will found here all my Passions, Hobbies, and more... A 100% Personal tastes and no more. Frames, DHTML, and others scripts use for the best rendering of the Parts...Enjoy! Site in French Language Only.